Shore Regional applauds local patriots
The Veterans Day Event for Shore Regional High School exhibited great pride and patriotism for our veterans and soldiers of the Monmouth County area. The celebration started minutes into Block 2 with students lining the hallways and cheering on the veterans who passed through. Nearly thirty veterans were cheered on as they made their way towards the auditorium.
A waving American flag was displayed behind the thirty veterans as the  room settled and the event began. The lights dimmed and the National Anthem began to play as students began to rise and place their hands on their hearts. Pre-school students from the Gingerbread House came to sing and sign an extended version of God Bless America which received a standing ovation, which was said to be "adorable" by students in the crowd.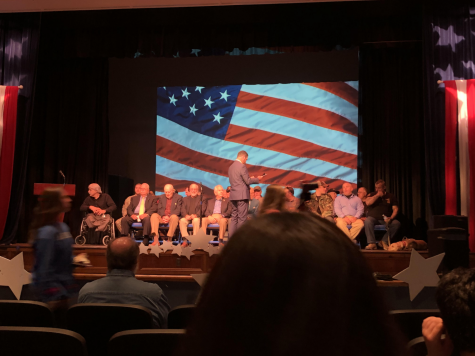 Afterwards, the children from the Gingerbread house and their teacher left the theater along with dozens of veterans who were designated to go to different rooms. Four veterans were assigned to stay in the auditorium with the students in the room; Robert Mussari, Derek Mussari, Walter Frattin and Peter Bova. Robert Mussari was recognized as a war hero in the Vietnam War and was nicknamed "The Human Bomb" for absorbing the blast of a mortar and saving the marines around him. Derek Mussari is Robert's son who served in Operation Iraqi Freedom under Task Force Tarawa. He spoke about major conflicts like the Battle of Nasiriyah and was placed in Fallujah.  Walter Frattin, a World War 2 Veteran, served as a US Navy Radioman from 1942 to 1946. Peter Bova was a medic in the war, and his passion to help others motivated him throughout the war. Like Mr. Frattin, his brothers also served in the war.
To the surprise of many, United States Senator Vin Gopal stopped in to express his respect towards the veterans and the organizers of the Veterans Day Celebration. The gratitude which the students of Shore Regional exhibited towards the veterans who volunteered to share their stories was incredible. We take this day to appreciate and look towards those who fought for America's freedom, and those who sacrificed a great deal to ensure our safety.