Betty White passes away weeks before 100th birthday
Leaving many upset and others suspicious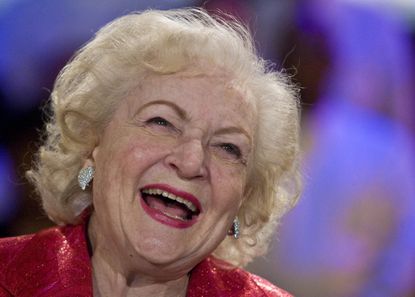 The beloved Betty White passed away on December 31, 2021, weeks shy of her 100th birthday. Many remember her legacy while some question the circumstances surrounding her death. 
White passed away in her sleep due to 'natural causes' despite her reporting to be very healthy a week before her death (People Magazine). There were many rumors that speculated  Betty receiving her booster shot days before was to blame for her death. Her agent, Jeff Witjas, has denied these rumors. Witjas has since said, as a close friend to White, that Betty's death should not be politicized. 
"I was very shocked and upset at Betty's passing and I was hoping she would make it to her 100th birthday. Justice for Betty." Shore Regional Student Emma Carpenter, when asked about her reaction to Betty's death.
On January 5th, 2022, it was announced that the star will be having a private funeral as those close to her said she did not want others to 'fuss about her'. Instead, she wants her supporters and fans to donate to her favorite charities and organizations. This list includes: The Los Angeles Zoo, Tree People, Monterey Bay Aquarium, Wildlife Learning Center, Actors and Animals for Others, The Aquarium of the Pacific and Guide Dogs For the Blind. 
Betty Marion White Ludden, commonly known as Betty White, was born on January 17th, 1922 in Oak Park, IL to parents Tess Curtis White and Horace Logan White. Despite being born in Illinois, White would spend much of her childhood in Los Angeles, California. Her career began in the 1940's where she acted on many radio shows. In 1949, began to appear regularly on Hollywood on Television as "girl friday" and she would later go on to host the show. In 1952, she co founded Bandy Productions so that she could develop her own projects. Later that same year, her television sitcom series, Elizabeth, where Betty played the title character, aired and ran for until 1955. White would appear in many series and game-shows including, Date with the Angels, To Tell the Truth, What's My Line?, and Password. The last of which she met her future husband, Allen Ludden, who would be married to White from 1963 until his death in 1981. 
Her career began to take off with her appearances on The Mary Tyler Moore Show in 1973 and received three Emmy nominations for her work on the show and winning two of these nominations. After the series ended in 1977, Betty would continue to appear in many other shows and in 1985, she debuted in the new series Golden Girls. This series, co-starred by Bea Arthur, Rue McClanahan, and Estelle Getty, would become very successful and Betty received seven Emmy nominations and one win for her work on this show. Betty would appear in many famous works of shows and movies for the rest of her life and cemented her legacy before her death.