Former Secretary of State, Madeleine Albright, dies at 84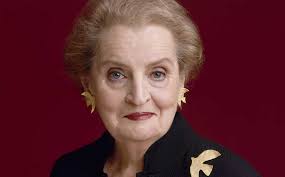 On March 23rd the first woman to be a U.S. secretary of state, Madeleine Albright, passed away due a battle with cancer.
Her family announced her death on Twitter leaving many mournful. Former President Bill Clinton, added that the Russia-Ukraine conflict had been weighing on her mind before her death.
Born on May 15, 1973, Madeleine Jana Korbel Albright was born to Czech refugees who fled from communist oppression and Nazi invasion. Her father, Josef, served as a press attaché for the Czechoslovak Foreign Service. After their fleeing, the family moved to Denver, Colorado where Madeleine became an American citizen in 1957. After their move, her father soon became a professor at the University of Denver where he used his skills as a former journalist and a diplomat. Albright was a very bright student which earned her a scholarship to Wellesley College in Massachusetts where she edited the school newspaper and engaged in her interest in politics.
During her time at Wellesley College, Madeleine landed an internship at the Denver Post where she met her future husband, Joseph Albright. In 1959, Albright graduated from Wellesley with honors and married Joseph shortly after. The couple would then move to several cities so that Joseph could pursue his journalistic dreams while Madeline began to study Russian and international relations while she raised her three daughters. Madeline finished her education at Columbia University where she earned a certificate of Russian studies in 1968 and a M.A. and PhD in public law and government in 1976. 
Whilst getting her public law and government degrees, Albright first entered the political scene by becoming a legislative assistant to Democratic senator Edmund Muskie. She was later hired as a national security adviser for Zbigniew Brzezinski on the National Security Council under President Jimmy Carter. Albright later transitioned into a private senator where she worked for several non profit organizations and became a Georgetown professor of international affairs where she won a Teacher of the Year Award four times. 
After divorcing her husband after he left her for another woman, Madeleine refused to let this stop her. During this time she hosted many social gatherings of the Democratic elite where they would discuss matters and issues of the time. Albright quickly became a major player of the party when she began to speak on foreign policy and served as an adviser to Michael Dukakis during his 1988 presidential bid. 
In 1992, Albright was trusted to handle the United States relationship with the United Nations under Bill Clinton's presidency. She was quick to make herself a force to reckon with by fighting for her beliefs and by being an advocate for "assertive multilateralism". In her time in this position, she often clashed with Colin Powell. 
Later in 1996, Clinton bestowed Albright with her brightest achievement, becoming the 64th secretary of state, being the first woman to do so. During her time as secretary of state, she fought for more human rights and a stronger sense of democracy in the country. She also firmly stated her opposition to the spread of nuclear weapons to countries such as Russia and North Korea. She retired from her post in 2001 after a trip to North Korea in late 2000. 
Since retiring from the position, she wrote many New York Times Best Selling books such as Madam Secretary: A Memoir, The Mighty and the Almighty: Reflections on America, God and World Affairs Read My Pins: Stories from a Diplomat's Jewel Box, and most recently, Prague Winter: A Personal Story of Remembrance and War. 
Her unfortunate death has touched many across the nation but her legacy as a trailblazer for women and advocacy for human rights will forever be remembered.