Shore Regional Awarded the ShopRite Cup
Shore Regional wins prestigious athletic award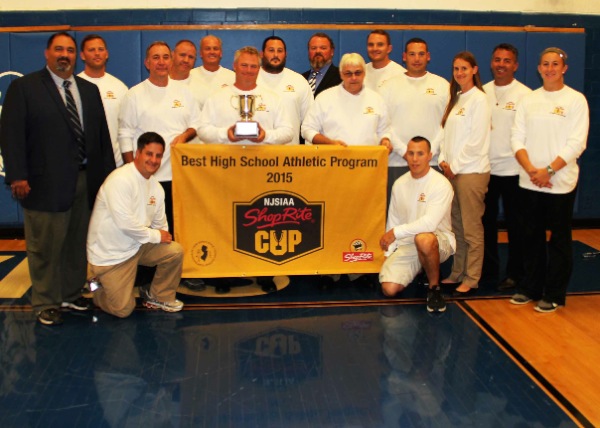 SHORE REGIONAL HIGH SCHOOL, WEST LONG BRANCH- In the month of October, Shore Regional High School was awarded the prestigious ShopRite Cup in recognition of its athletic achievement in the state of New Jersey throughout the 2014-2015 athletic and scholastic year. The presentation was made by Jack DuBois, NJSIAA representative, and Diane McCurdy, ShopRite representative.
Schools earn points by winning sectional and overall state championships, and points also are awarded to schools that go disqualification-free for each season. Shore Regional scored 68 points, the most by a Group I school in the history of the ShopRite Cup.
"Winning the ShopRite Cup is the ultimate honor in New Jersey high school athletics," said Harry S. Chebookjian III, the assistant principal of athletics and student activities at Shore Regional. "This award symbolizes the commitment of our student-athletes, coaches, administration, Board of Education and community to our athletics program and to developing a well-rounded student."
The top athletic programs in the state get awarded with the ShopRite Cup, and only six ShopRite Cups are awarded every year.  Shore Regional High School's 68 points were gained by winning sectional and overall state championships. The teams responsible for winning sectional championships include Girls Soccer, Boys Soccer, Boys Cross Country, Girls Cross Country, Girls tennis, Field Hockey, Boys Basketball, and Girls Lacrosse. Hockey and Football earned points by winning overall state championships.