Bravo's Reality Show "Below Deck" Sets Sail for Third Season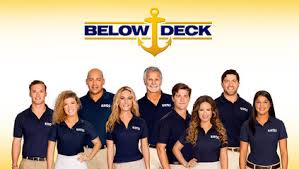 Bravo's reality show Below Deck, which follows the lives of the working men and women who serve the rich on huge luxurious yachts, has been on for three seasons.  It often shows how crew life is not as glamorous as it seems. The season three cast includes Captain Lee Rosbach, Kate Chastain, Amy Johnson, and Eddie Lucas, as well as newcomers Don Abenante, Connie Arias, Raquel "Rocky" Dakota, Emile Kotze, Leon Walker, and Ben Robinson.
The program runs for 42 minutes (excluding commercials) every Tuesday at 9pm. The series first aired on July 1, 2015. Executive producers include Mark Cronin, Nadine Rajabi, and Rebecca Henning. The show is filmed using cameras placed in each of the crew's rooms, crew dining area, guest lounge, and all of the deck areas. There is also one actual cameraman who follows the crew around at certain times. The show is edited to have a "circle" of focus around each person. For example, the show may feature the deckhands for eight minutes, go to the stewardesses for eight minutes, and go to the chef for eight minutes and then repeat the cycle over.
The suggested audience is a large range. Any one over the age of thirteen could enjoy this program; however, the humor can get a little inappropriate. There is no script as the show is reality. The show follows the scandals and sites discovered by working on a yacht. The crew has to meet the needs of the guests, no matter how ridiculous their wishes are. The 110 foot mega-yacht Eros docks and sails in the beautiful Bahamas. The show is entertaining with drama brewing on every deck. The hardworking crew produces creative ways to entertain the guests by any means possible. The humor the crew shares among themselves in addition to the guests will have you chuckling like you never have before. Anyone who enjoys the drama of Real Housewives and comedy of Parks and Recreation will most likely enjoy below deck. The show is similar to other reality TV shows and has the potential to attract similar fans with the right marketing. Overall, this renewed reality show is definitely worth the watch.