Say Hello to His Royal Highness Prince Louis of Cambridge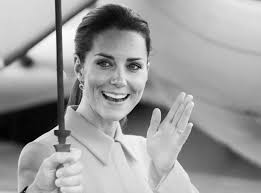 The recent birth of His Royal Highness Prince Louis of Cambridge is an historic occasion for the royal family, but one member in particular is especially enlightened. Prince Louis was born on Monday, April 23 at Saint Mary's Hospital, giving the media another stunning picture of the Duchess post-birth. The name Louis was not expected with Albert and Arthur seen as frontrunners. The baby's full name, Louis Arthur Charles, does have familial significance.
The name Louis is derived from Prince Philip's great-uncle, Earl Mountbatten of Burma. Lord Louis Mountbatten was a mentor of Prince Charles and was killed in 1979 after the IRA (Irish Republican Army) planted a bomb in his fishing boat. Arthur is the father Prince William's middle name and is a reference to the iconic King Arthur. Charles is a tribute to the infant's grandfather Prince Charles.
The baby's birth is historical and significant in a different sense. Prince Louis's birth marks the first time an older sister will not lose her place in the Line of Succession, meaning Princess Charlotte will stay fourth in line while the new baby becomes fifth in line. The 2013 Succession to the Crown Act means that "a female's claim to the royal throne can no longer be diminished by a younger brother." For example, Princess Anne (sister to Charles and daughter of Her Majesty the Queen) had to give up her place in the Line of Succession twice when her two younger brothers were born, Prince Andrew in 1960 and Prince Edward in 1964. Newborn Prince Edward had a greater claim to the throne than 14-year-old Princess Anne. This issue is dissolved and is fitting seeing as Princess Charlotte's waving outside St. Mary's hospital could mean she has already gained a knack for royal duties.