11 dead and 6 injured in deadliest attack on Jewish community in American history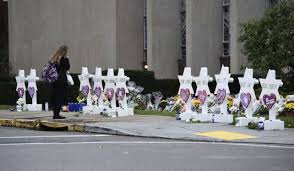 Hang on for a minute...we're trying to find some more stories you might like.
Robert Bowers is a 46-year-old Pittsburgh, PA resident who would incessantly  post threats online against the Jewish community. Those threats took form on Saturday, October 27th when Bowers burst into the Tree of Life, otherwise known as  L'Simcha Congregation, resulting in the deaths of eleven people and leaving six others injured. After exchanging fire with police, Bowers surrendered and is facing court this week. Court officials are said to be seeking the death penalty for Bowers who made a brief court appearance in a wheelchair Monday, after being injured in the shootout with police.
Armed with an AR-15 and three handguns, Bowers barged into the synagogue and began to open fire while yelling anti-semetic slurs and expressing his hatred towards the Jewish community. Taking place during a baby naming ceremony, this is considered to be the deadliest attack on the Jewish community on American soil in U.S. history.
Among the dead: two brothers, both who played vital roles in both the synagogue, as well as their surrounding community; Daniel Stein, a recently retired and new grandfather; a married couple in their 80's who had been married in the same synagogue nearly 62 years prior, and Melvin Wax, 88, who opened the door for many to escape, but by doing so attracted Bowers attention, became Bower's last victim. Many of those who were killed were elderly and had been part of the synagogue for years. The eldest victim, Rose Mallinger, was 97. 
Information regarding the prosecution of Robert Bowers will be forthcoming.