It's 'Turkey Trot' time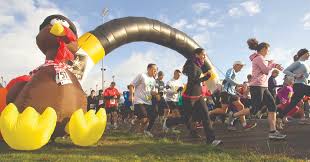 Hang on for a minute...we're trying to find some more stories you might like.
Run, skip, jump, trot. The infamous "Turkey Trot" fun run will be held all around the nation this upcoming holiday season. Annually, Americans come together to celebrate Thanksgiving by holding a long distance "Turkey Trot" that will allow them to burn calories before the big meal. It is estimated that the average American will consume 3,000 calories during Thanksgiving dinner, which can easily rocket to 4,500 calories with added desserts and snacks. Statistics like these, motivate many Americans to get their last work out in by taking part in a Turkey Trot to feel a little less guilty on Thanksgiving Day.
There are more than 250 active Turkey Trots around the country. Turkey Trots are usually a 5 mile race, in which you are encouraged to run or walk. This fun run promotes people to balance out their Thanksgiving meal with exercise. Many Americans anticipate indulging in on their Thanksgiving dinner, so why not gather friends and family and take part in a country tradition of working off a few calories? One of the biggest Turkey Trots is held on November 24th, in Roosevelt City, NY. Registration is available online, and all are welcomed to join the race. Let's start traditions… join the trot!