Morehouse College student loans paid off by billionaire alum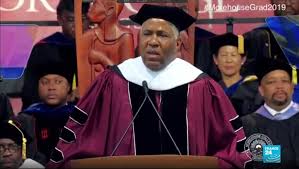 Morehouse College is a private, all-male historically black college in Atlanta, Georgia with an enrollment of just over 2,000 undergraduate students. It is one of the few all-male colleges left in the United States. On Saturday, May 18, nearly 400 men were set and ready to graduate from Morehouse. While listening to the guest speaker's presentation, the students were faced with the most meaningful graduation gift they could have been given. Robert F. Smith, a billionaire investor, founder of Vista Equity Partners, and richest black man in America, pledged to pay off the student loans of every student of the class of 2019. Smith is doing so with the intention of allowing the graduates to go into their respective next chapters without the burden of student loans. One student, Ernest Holmes, said he had almost $10,000 in loans relieved by Mr. Smith. Holmes has plans to work as a software engineer for Google.
Robert F. Smith's pledge comes at a time of intense strife in America over college loan debt and the overall price of college tuition. Student loan debt has more than doubled in the past ten years, and many upcoming presidential candidates have plans incorporated into their campaign for debt cancellation and lowering college tuitions. Smith is known as a philanthropist of sorts, making a large donation to the college earlier this year to help with scholarship efforts. He intends to make this the start of a movement, encouraging other alumni to do as he did for their respective colleges. "Let's make sure every class has the same opportunity going forward, because we are enough to take care of our own community. We are enough to ensure we have all the opportunities of the American dream, and we will show it to each other through our actions and through our words and our deeds", Smith says. He did not inform Morehouse's administration, employees or students prior to the announcement, and even those in his inner circle were surprised to hear his declaration.
Although unclear how much Mr. Smith will be able to contribute or what the final sum of loans are, the class is greatly relieved. Full Time tuition for this year at Morehouse was $25,368, and feels like room and board, textbooks, and other fees push the number to over $48,000. More than 90% of those attending Morehouse receive some type of financial aid. For the Morehouse graduates, relief will be immediate, sparing some almost a decade of paying off loans. John Cooper, a 2019 Morehouse graduate with $98,000 in loans, feels as if his future is fully free. He may now even apply for law school without the burden of crippling debt. "Not only does this donation help create generational wealth, but it inspires people to give back. The fact that I know somebody who paid off $98,000 of my student loans makes me just want to go out and just give to people even more than I did before."