TIME's people of the year are announced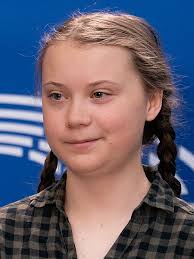 Each year, TIME Magazine releases their Person of the Year issue. Within this issue, they highlight people who have dominated in their perspective fields, including one overarching Person of the Year, who seems to have dominated the entire world through their achievements. This tradition began in 1927, and was originally called Man of the Year. 
Greta Thunberg was awarded Person of the Year for her climate change activism. Greta went from protesting outside of Sweden's parliament on Fridays to leading a global revolution of youth activism for climate justice. She has quickly become the most powerful voice on the world's biggest issue at the ripe age of sixteen. According to the editor of TIME, Greta Thunberg was awarded the 2019 Person of the Year by showing the world what it is like when a new generation takes initiative for their future.
The United States Women's National Soccer Team was awarded Athlete of the Year for their World Cup victory and monumental lawsuit against US Soccer for equal treatment. From cramped and bedbug infested hotels in the 80s and 90s, to rough field conditions in the 2000s, to striking differences in pay throughout history, the USWNT has had enough. They are demanding equal treatment and equal pay on the basis that they are the better team in the US Soccer branch. The men's team's successes pale in comparison to that of the women's team, and they believe that this qualifies them for equal, if not higher, wages. It is because of their victories in their sport and powerful triumphs in their society that these women have been named 2019 Athlete of the Year. 
In the midst of the most successful year of her life, Lizzo has been named Entertainer of the Year. As a plus-size entertainer, Lizzo offers people something new and refreshing. Her music, a mix of pop and R&B, is inescapably positive and catchy with relentlessly sharp hooks that will have you bobbing your head along to her tune all day. She promotes a feeling of self-love and an overwhelming sense of self-worth to the people who need it most. She emulates power and prosperity in a time when people needed it most, and it is because of that Lizzo was named Entertainer of the Year. 
In addition to these three dominating categories, TIME also releases Guardians of the Year and Businessperson of the Year. The 2019 Guardians of the Year was awarded to the public servants, specifically those in Washington D.C. who have had a whirlwind of a political year. 2019 Businessperson of the Year was awarded to Bob Iger, CEO of Disney, who has capitalized off of many things this year, most famously the Baby Yoda trend.