Wildfires rage in Australia
Bushfires are taking over Australia and we are to blame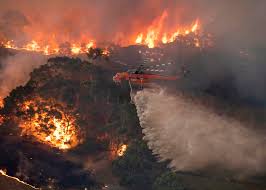 At this moment, wildfires are sweeping across Australia, and destroying millions of acres of land. The fires have been present in all six states, but they are most predominant in New South Wales. New South Wales is on the Eastern Coast of Australia and contains one of the most well known cities, Sydney. 
The fires, which started in November, have burned over 17 million acres of land and has killed over one billion animals. Many native species are being threatened by the fires, and scientists are weary of extinction. One of the main animals being affected is the Koala, who has lost about a third of their population and 80 percent of their habitat. So far there have been 27 reported deaths, including volunteer firefighters, and that number is expected to grow as the raging fires are expected to continue throughout the next few months. 
Summer in Australia is hot, dry, and wildfires are expected to take place, but this year the conditions are severe. Climate change has only continued throughout the past few years which greatly impacts the conditions that make natural disasters so extreme, and humans are to blame. Australia is facing the worst drought they have had in decades. In some places temperatures have reached up to 120 degrees Fahrenheit. The strong winds are no help either, as they are just spreading the fires and smoke quickly across the country. Anything could spark the fires, including lightning strikes, but the police have charged more that 24 people will charges for deliberately starting bush fires, with 183 more under investigation. 
State and Federal Authorities have been working for months to control the crisis, but the strong winds and large scale of the fires are making it difficult. Many of the Australian states have declared a State of Emergency, which grants extraordinary powers and the use of additional government resources to help battle the fires. At this moment approximately 3,000 firefighters are working to control the fires and more help is on the way. America, Canada, and New Zealand have sent additional firefighters to assist. 
Millions of dollars have been allocated to help fight fires in Australia, but we are nowhere near the end. Australia is just at the beginning of their summer months, with the hottest and driest times expected to take place from late January into February. There are several ways you can indirectly help fight the fires. Many organizations are accepting and asking for donations including, the Australian Red Cross, Salvation Army Australia, the NSW Rural Fire Service, and the St. Vincent de Paul Society Australia. In addition organizations like WIRES, the Port Macquarie Koala Hospital, and Currumbin Wildlife Hospital, are asking for donations to help treat and house the animals that have been saved. But the one of the most important things you can do is spread awareness. Share information on social media and get people talking about the bush fires, and the actions that we as humans are doing to kill our planet.