Halloween Is NOT Cancelled
What to Expect For the Spooky Holiday Amid a Pandemic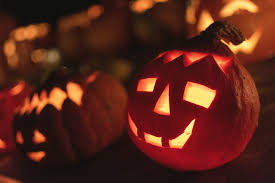 "You may wish to dress as a knucklehead this Halloween, but we don't want anyone to act like one" said Governor Murphy in a tweet announcing that Halloween is indeed on this year.
Shore Regional students and other New Jersey teens remember Governor Christie cancelling Halloween in response to Hurricane Sandy's horrific damage. Young children in 2020 won't be as disappointed as we were in 2012, but there are still many COVID-19 procedures and guidelines to follow for this upcoming Halloween to stay safe.
The NJ government, advised by the Department of Health, released a health and safety guideline addressing how to properly handle the holiday. Masks and social distancing are required for trick-or-treating. Although people will be allowed to give out candy (with masks on) and leave out bowls of candy, the Department of Health advises to make individual bags of candy that trick-or-treaters can just grab and go. As for trunk-or-treating, those participating should minimize crowds by either keeping the amount of cars in a given space to a minimum or arranging different shifts for kids to trunk-or-treat at separate times.
Halloween parties are advised against. However, any indoor or outdoor gatherings must follow the standard guidelines already set by the state of New Jersey. Indoor gatherings must be limited to 25 people or 25% capacity with everyone wearing masks and social distancing. Outdoor gatherings are allowed up to 500 people with proper mask-wear and social distancing as well.
As always, wash your hands frequently and stay home if you or someone you are in contact with has COVID-19. For more general and medical COVID-19 answers, please call 2-1-1 and 1-800-962-1253 respectively.
Keep in mind the lives at risk during this pandemic, and have a Happy Halloween!