Dodgers Brings Home the MLB [COVID] Championship
Despite the Dodgers winning the World Series for the first time since 1988, there's a chance that there will be more than celebrations spreading across the city
After your team wins a World Series, it's only natural to run on to the field to celebrate. However, when you test positive with COVID-19 and are told by security to not return to the field, this could trigger a lot of media attention. 
That is what happened shortly after Game 6 of the World Series, as Los Angeles Dodgers Third Baseman Justin Turner dashed to the field to celebrate the Dodgers' first World Series win since 1988. Turner had been removed in the 8th inning, as it was revealed after the game that Justin Turner had tested positive for COVID-19, and according to ESPN those results, "were from previous day's tests that were delivered late". 
"Turner's test showed some characteristics associated with a positive test.." ESPN columnist Jeff Pasaan stated, " but the efforts to amplify the results by doctors running the tests did not say for certain".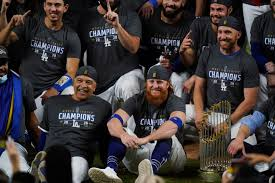 Justin Turner, who had tested positive for COVID-19, can be seen in the Dodger's team photo next to manager Dave Roberts and Pitcher Joe Kelly. Photo credit: 
Turner was quarantined in the Dodger's medical room and was told by multiple security members to not return to the field under the safety protocols of the Major League Baseball Players Association. That did not stop the third baseman, as he could be seen with a mask taking team pictures, and even holding up the World Series Trophy. The MLB is currently under investigation, as they stated his, "behaviors risk the health and safety of everyone around him". 
"It is clear that Turner chose to disregard the agreed-upon joint protocols and the instructions he was given regarding the safety and protection of others" MLB commissioner Rob Manfred stated, "we are aware that exposure on the field is different from a World Series celebration, and that being in a closer proximity increases the chances of transmitting the virus."
Currently, all of the members of the Los Angeles Dodgers, as well as the Tampa Bay Rays, are all under quarantine to get further test results. However, whether or not they all test negative, this will be a stain on baseball that will last for the foreseeable future. A sport that is already seeing their views and sponsorships fade away in the hands of rising competitive leagues will now have to deal with the adversity of letting one of their players risk the lives of everyone around them. A night that was supposed to be filled with celebration has now reminded us that COVID is very well alive, with no signs that it is slowing down anytime soon.