Fall 2022 Production of Love Stress and the IRS Interview with Director Todd Aikens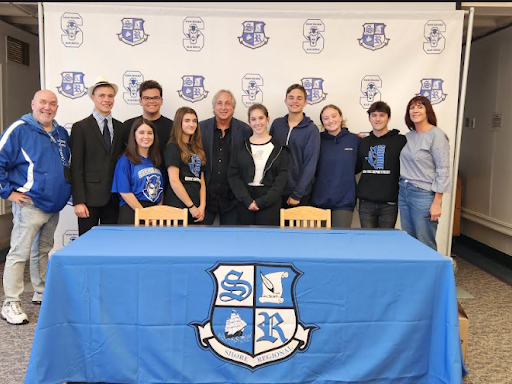 Shore Regional High School's drama department "Shore Players" will be putting on a musical and dramatic production this fall and coming spring. This years fall production is Love Stress and the IR$. Here we get some insight from director Todd Aikens on this upcoming production and his experience with Shore Players. 
How long have you been directing shows at Shore Regional High School?
Todd Aikens: 2022 marks my 11th year as drama director with Shore Players. LOVE, STRESS and the IR$ will mark my 23rd show with Shore Players.
What inspired you to put on this production of Love Stress and the IR$?
Todd Aikens: I have always loved the crazy, fast paced humor of the show. I love to work with actors on physical comedy and timing. With knowing one of the playwrights, Billy Van Zandt, I asked if he would come into the school and speak with the cast. So when it all aligned I thought this was a perfect show to do. We all need a lot of laughter in our lives. I also want to dedicate this production to the memory and legacy of the other playwright Jane Milmore.
How has the rehearsal process been?
Todd Aikens: The rehearsing process has been a blast!  We are always laughing and discovering new bits that we might keep in the show. It's a very physical show and a lot of the work deals with the timing. Once everyone memorizes their lines we can really dive into that aspect of it.
How has the cast been adapting to their roles?
Todd Aikens: They have been adapting very well. It is all a part of the process. It's a period piece and it's fun explaining the people and aspects of the 1970s.
Tell us a little bit about this show….. 
Todd Aikens: A classic farce that everyone should be doing – especially around tax time! Jon Trachtman and Leslie Arthur are out of work musicians who room together in New York City. To save money, Jon has been filing tax returns listing the pair as married. The day of reckoning comes when the Internal Revenue Service informs the "couple" they're going to be investigated. Leslie masquerades as a housewife, aided by Jon's fiancée, Kate. Complicating matters further, Leslie and Kate are having an affair behind Jon's back, Jon's mother drops in unexpectedly to meet her son's fiancée, and Leslie's ex-girlfriend shows up demanding to know why Leslie has changed and won't see her anymore. Like a cross between I Love Lucy and Some Like it Hot.
What advice can you give to aspiring performers?
Todd Aikens: Being on time is key! Be ready for anything the director throws at you, but bring your choices to the table too. You are an actor not a puppet. Enjoy the process. If you are not having fun the audience will not have fun. The advice someone gave me years ago is the trick to acting is not to act. Be yourself. Trust the process…and have fun. I also tell people to get involved, you learn by doing. There are lots of local theatre companies all over. Different voices will only teach you different ideas…just don't spread yourself too thin. Commitment is all part of the process as well.
Any final thoughts?
Todd Aikens: I am very excited for a fun filled year with Shore Players! Auditions will be coming up before the winter break for SPAMALOT and I hope we see lots of new faces auditioning. There is a lot of singing and dancing to be done and laughter to be had all year long. Looking forward to visiting and reliving the 1970's with LOVE, STRESS and the IR$. It takes me back to when I was a student at Shore….yes I am that old!
Auditions for the spring musical Spamalot will be announced shortly!