Shore Players Spring Production of SPAMALOT Coming to Shore Regional March 10, 2023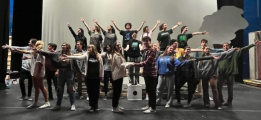 Shore Players is back to entertain our audiences with another exciting spring musical, Monty Python's Spamalot. Spamalot is a musical adaptation of the iconic film, Monty Python and the Holy Grail. Spamalot tells the legendary story of King Arthur and his quest to find the Holy Grail. This musical will leave you hysterically laughing and you will be humming many of the familiar tunes the minute you leave the theater. The cast and production team have been working very hard to make this incredible show come to life.
     Leading the show as King Arthur is junior Jack Sweeney. Playing the lovable "Knights of the Round Table" are Max Caiola as Sir Robin, Max Oster as Sir Lancelot, Kelly Sniffen as Patsy, Collin Rauch as Sir Galahad, and Ian Lang as Sir Bedevere. Playing the dazzling Lady of the Lake is Mia Costa and playing her fabulous cheerleaders are Molly Bonnet, Victoria Dunn, Lucy Hester, Marianna Ribeiro, Grace Sweeney, and Shannon Trollan. Playing the fun roles of Not Dead Fred and Prince Herbert are August Zillincar and Nick Ciavolino. The Historian who tells the tale is played by Cameron Flemming. Our ensemble with countless featured roles includes Natale Borriello, Michelle Vazquez, Alexandra Zywan, Madeline Bruno, Avery Decker, Paige Kerr, Sawyer Raposo, Venice Shewchuk, Annika Simonson, and Rebecca Skeen.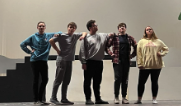 Tickets are available online at https://sp.booktix.com. Tickets may also be purchased in the SRHS lobby beginning one hour before each performance. Seating begins 30 minutes before curtain. Discounted prices are available for tickets purchased by Thursday, March 9! On Friday, March 10, ALL tickets are $15. The performances run from March 10 to March 19, 2023. March 10, 11, 17, and 18 performances will be performed at 7 pm. March 12 and March 19 performances will be performed at 2 pm. Get your tickets today! You do not want to miss out! We hope to see you there!