How social media lead to hundreds of arrests from Capitol siege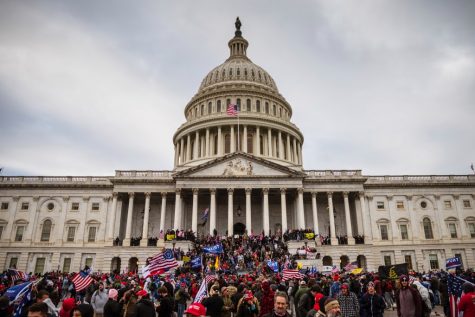 (Photograph by Jon Cherry–GETTY IMAGES)
Just 6 days into 2021, Trump supporters violently stormed the Capitol building. While Capitol Police may have enabled almost the entire mob to successfully break into the White House, vandalize and steal the property inside, and leave without getting arrested,  passionate internet junkies and official investigators are determined to make sure their actions don't go unpunished. The fire for justice against insurrectionists has begun, as several people have been charged with riot-related crimes, and there are more on the way. 
Smile for the Camera
The Capitol rioters were not only violent in their actions, but discriminatory against who was near them. Rioters refused to allow anyone who was wearing a mask to partake in the Capitol raid. They additionally ganged up on police officers trying to interfere with the siege, classifying anyone wearing a badge as a threat. One group of individuals that the rioters didn't kick out were news reporters. Many participants willingly, and quite excitedly, posed for photographs and videos at the scene. Individuals flaunted their Trump flags, and posed on extremely valuable works of art, such as the statue of former President Gerald Ford. The Trump supporters paraded in patriotic costumes, screaming homophobic, racist slurs to the cameras shoved in front of them. It seemed as though they saw no flaws in their actions. 
If they didn't already get their photos taken by a news reporter of some sort, rioters posted their whereabouts all over social media. Platforms like Instagram, Snapchat, and even Facebook were used by Trump supporters to brag about what they had done "in democracy's name", as well as to update supporters that couldn't make it to the siege. Rioters used specific features on Instagram and Snapchat known as geotags to display exactly where they were at what time. Additionally, they used several popular hashtags that are common amongst Trump supporters, including "#MAGA", "#sleepyjoe", "#voterfraud", etc. Rioters were exhilarated by their ability to successfully takeover the Whitehouse, all while avoiding getting arrested, however, they were in for a rude awakening.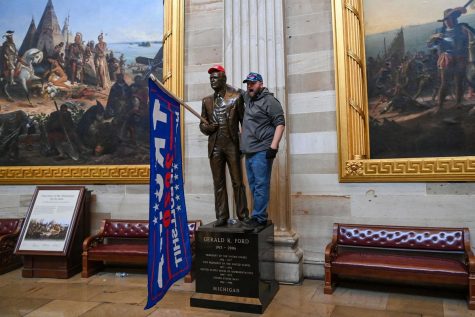 (Photograph taken by Saul Loeb–Getty Images)
Internet Investigators
Individuals who stormed the Capitol left the building leaving social media breadcrumbs everywhere. As thousands upon thousands of Americans watched horrifyingly as rioters pushed past law enforcement and vandalized the Capitol, many were determined to expose these peoples identities and make them suffer the consequences. Family members, friends, and even acquaintances of the rioters gave tips to the FBI, all by viewing their social media pages. Individuals made sure to take screenshots of alleged rioters' profiles, in case they attempted to delete certain posts or deactivate their accounts as a whole. 
While there was a vast majority of people who turned in the rioters they personally knew, a lot of individuals who had no connections with the radical Trump supporters played a huge role in uncovering their identities. Using publicly available photos, videos, and social media accounts, several civilians were able to successfully verify some of the rioters. An Instagram account dedicated to identifying, naming, and reporting the criminals has gained more than 300,000 followers. Celebrities such as Bella Hadid, Tyler the Creator, and Kendall Jenner have brought awareness to the account, which has enabled more helping hands to turn in the rioters. 
Dylan Reeves, a New Zealand-based film producer, helped investigators identify some of the most notable rioters at the Capitol. Reeves explained that he was not an expert in searching for people via social media, however, he was extremely excited to join in the fight for American democracy, and uncover the mystery. 
"I was following many of the Twitter threads from early on. It was immediately clear that lots of photos and videos would exist, but how many would become public and how useful they'd be remained to be seen," Reeves stated. 
Reeves, along with many others, spent countless hours studying different photographs and videos of the Capitol raid in hopes of hearing or seeing something that may give them a clue about the identifies of rioters. One tactic that led to a lot of success was their ability to zoom up on the photographs, and look at any identification that the rioters were wearing. A lot of rioters contained their ID on them, as well as specific logos that could be linked to certain locations or jobs. By using the details found, investigators would cross reference this information with images or text already on the internet, leading them to the successfully identification of those at the Capitol.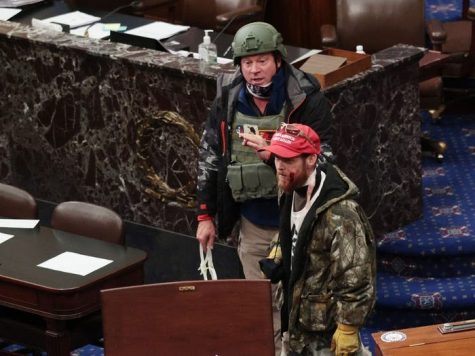 (Photograph by Win McNamee-Getty Images)
Serious Actions Call for Serious Consequences 
There have been extremely serious consequences for those who have been identified as the rioters at the Capitol. Almost every person who has been caught has been charged with entering and reaming on restricted grounds, violent entry, disorderly conduct, and theft of government property. On top of that, a lot of participants have lost their jobs, and are struggling to find new ones. One man named Doug Jensen was fired from his job at an Iowa masonry company, which was announced by the company the same day of his arrest. A woman named Libby Andrews was fired from her Chicago real estate agency one week after she was exposed on social media for being at the riot. 
It is questionable that the Federal Government failed to pay attention to national threats on social media. Trump fans were openly organizing the attack of the Capitol for several weeks, detailing exactly what their plan was. It is a true eye-opener that the White House could be so easily taken over, but it is a learning lesson for both America's people, and its government. Without social media, it would take much longer to identify rioters, so it is truly amazing how far technology has come, and how it can help us fight against crime.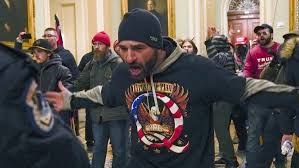 (Photograph from CNN.com)