US Women's National Team Looks Ahead to 2019 World Cup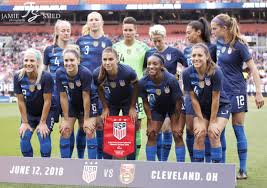 The United States women's national soccer team have just completed three pivotal games in their journey to the 2019 women's World Cup in France. The team has traveled around the US while competing in the Confederation of the North, Central American and Caribbean Association Football (CONCACAF) championships. The women played for a spot in France in the A group with Mexico, Panama, and Trinidad and Tobago. The US were able to clench three solid victories in the group stage, beating Mexico 6 to 0, Panama 5 to 0, and Trinidad & Tobago 7 to 0.
Although the women have only participated in the group stage, the reigning World Cup champions' efforts have not gone unnoticed. The team's games have been featured on the Fox Sports 1 network, reminiscent of Fox's broadcasting of the men's World Cup. The number 1 ranked women are a stark contrast to the men's national team who failed to qualify for the World Cup for the first time since 1990. The irony is not lost as people noticed how the men's national team were eliminated after their loss to Trinidad and Tobago, but the women have crushed their tenure in CONCACAF play so far.
Semi-final games appear on FS1 Sunday October 14th at 5:00 and 8:00pm EST while the championship game will occur on Wednesday October 17th at 8:00pm.